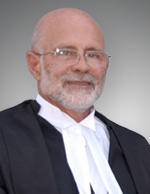 Emile was born in St Kitts, where he received his early education.
He holds a Bachelor of Laws degree, with honours, from the University of the West Indies and a Master of Laws degree from the University of Cambridge (Trinity College).
During the course of his education Emile received a number of academic awards, including the 1977 St Kitts and Nevis State Scholarship; a 1979 Mark of Merit at the Faculty of Law, UWI, Cave Hill, Barbados; the 1981-83 Most Outstanding Student Award at the Norman Manley Law School in Jamaica, where he graduated first in his class in 1983, the year of his admission to the Bar in St Kitts and Nevis; a 1985 Commonwealth Scholarship (United Kingdom); and the Lizette Bentwich Prize for good performance in the Master of Laws (LL.M.) examinations at Trinity College, Cambridge University in 1986.
Emile is admitted to practice law in a number of Caribbean jurisdictions. He has worked as a university law tutor, a Crown Counsel in the Chambers of the Attorney General and the DPP and an Acting Judge of the Eastern Caribbean High Court. He has been in private legal practice since 1986 and joined the firm as a partner in 1988. He was appointed a Queen's Counsel in 2012.
Emile has served as President of the St Kitts and Nevis Bar Association, Vice-President of the St Kitts and Nevis Chamber of Industry and Commerce, President of the Rotary Club of St Kitts, and Chairman of the Caribbean's Council of Legal Education which operates law schools in Trinidad, Jamaica and The Bahamas. From November 2010 until October 2013 he was a member of the Regional Judicial & Legal Services Commission ("CCJ RJLSC") which appoints judges and other staff to the Caribbean Court of Justice. He was one of two members on the CCJ RJLSC nominated jointly by the Bar or Law Associations of the member states who signed the CCJ Treaty. He has served as the Vice-Chairman of the Disciplinary Committee of the St Kitts & Nevis Bar Association established under the Legal Profession Act.
He has authored articles on "The Supremacy of the Constitution" in The West Indian Law Journal (Vol. 28, No. 1, May 2003) and on "The Enforcement of Foreign Judgments" in Kimes International Law Directory 2000. "The Supremacy of the Constitution" article was later quoted extensively with approval by Prof. Albert Fiadjoe in his textbook "Commonwealth Caribbean Public Law" 3rd ed. 2008.

email: This email address is being protected from spambots. You need JavaScript enabled to view it.